Whether you are selling your home or you just want to be the envy of your neighbours, a well-maintained exterior can make a huge difference when it comes to your home's curb appeal. Luckily there are things you can do, within a range of budgets, to help your home look its best (and sell faster and for the best price – if that is your intention)! We've compiled a list of curb appeal enhancements you can work on this summer.
Make It Shine – The first thing you need to do is to take care of the curb appeal basics. If you are willing to put in some elbow grease and time, this won't cost you anything. Scrub the loose dirt and grime with a mixture of mild-soap and warm water, sweep the front porch, wash the windows and clean the screens. Depending on the time of year, make sure you clear away any fallen leaves from the yard, mow the lawn or shovel the drive and walk ways.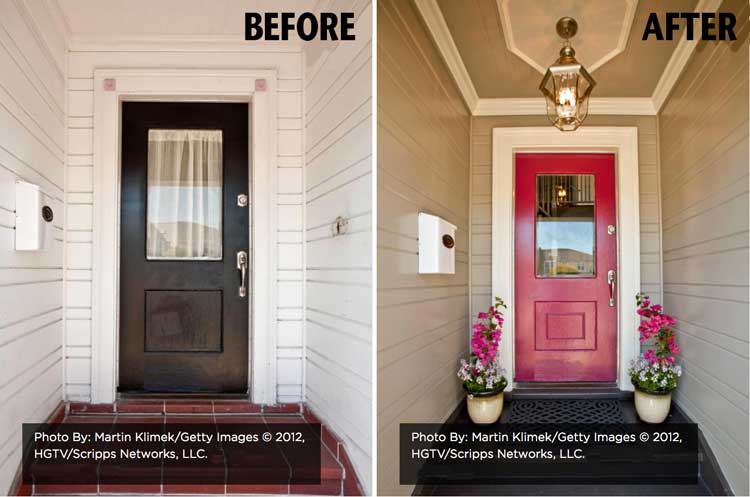 Front Door Makeover – While guests are waiting at your front door they are making a first impression of what they might expect from the rest of your home. A fresh coat of paint may be all you need to make it appear fresh and new. Otherwise a new front door can make the world of difference. Not sure which door might look best on your home? Design the entry door of your dreams. In either case, don't be afraid of color. Bold colour choices can give your home an updated look and make it standout from all the other homes on your street.
Replace Old Hardware – Rusty, chipped, broken or just plain out dated or old house numbers, entry door handles and locksets, mailboxes, and light fixtures are all things that will downgrade your home's exterior curb appeal. If they're out of date or dingy, your home may not be conveying the aesthetic you think it is. To have a unified look, try and select items that have a similar colour, finish and style. The choices are endless. Tip: Oiled-bronze finishes suit traditional homes, while brushed nickel suits more contemporary ones.
Spring Clean-Up (no matter what season it is) – Less is more! Now is the time to remove the clutter from your front step or porch. A clean view is always attractive from the street. You may love garden gnomes or a collection of pottery, but potential buyers may not. A few well-placed items like a planter or porch chair may be all you need.
Light It Up – A bright exterior is attractive where a darkly lit one can look dingy. No wiring? Place solar fixtures next to a walking path or driveway. It is relatively inexpensive and makes a huge impact on your home's curb appeal while also providing safety and security.
Update the Garage Door – Many homes are designed where the garage door is the focal point in the front of the home. Beautiful garage doors will make a great first impression. If your garage door has seen better days, consider replacing it with an updated style.
Landscaping and Gardening – Make sure that your landscape compliments your home instead of concealing it. Trim back bushes, shrubs and trees so your entry is open and inviting. If you have a garden, make sure it is weeded and planted. Nothing in bloom or your garden isn't as spectacular as you would like? Consider adding a container garden. Container gardens add a welcoming feel and colourful curb appeal to any home exterior – quickly and affordably. You can buy ready-made containers from garden centers or create your own with your favourite plants.
Add Interesting Features – Give your yard a little spunk and curb appeal by adding weather-resistant artwork. Choose pieces that complement your home's natural palette and exterior elements. Birdbaths, sculptures, wind chimes and fountains will all make attractive features!
Exterior Facelift – This is a more costly suggestion but one that will have the most dramatic results. An exterior facelift – new paint, siding, roofing or trim details on the whole house – will automatically transform the look of a home. Maintenance of the exterior surface is the surest way to keep your house and it curb appeal looking its best. This includes making sure the roof is in good repair, the siding, stucco or brick looks its best, and the gutters aren't old and rusty. Replace old gutters and downspouts (something homebuyers often notice). Newer snap-fit vinyl systems are low maintenance but copper systems, while pricier, convey an unmistakable look of quality and pretty curb appeal. You can dramatically alter the appearance of your home by deep cleaning with a pressure washer. Once clean, consider a new coat of paint. Even painting brick is all the rage on the home improvement shows and it can make your house look dramatically different. Fixing and painting window trim (and of course replacing any old windows) can make a big difference. Adding shutters to windows is another way to change the exterior look.
Whether you chose to do exterior home maintenance on a regular schedule or tackle it as a summer project, any changes you make will improve your home's curb appeal!