The last few blogs have all been inspired from my recent trip to Italy. Well, it is a new year and my resolution is to fall in love with my home again. This is going to be the year of renovating. I am ready to make changes, large or small, if they will bring me joy every day in my home.
For me, that starts with bringing some of the warmth and romantic design ideas I saw in Italy into my home décor. And I've noticed, I'm not the only one. European designs seem to be a big trend in North America these days.
So here are some things I'm considering (and you can to), short of moving my house to Italy, to add some European flair to my home.
1. Repaint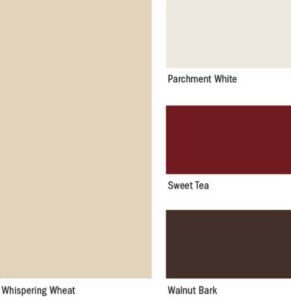 Simply repainting in a nuanced colour palette can give a distinctly European look to any room. Rich and beautiful colours paired with white or sandstone can give a modern twist on a classical, Italian look.
2. Adding Wood Beams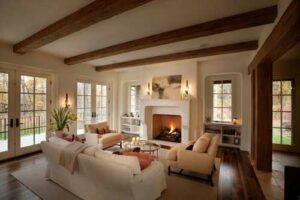 Tuscany is known for its rich farmland and beautiful villas. Adding oak or wood beams to a ceiling will give age and dimension and make the house feel like a European farmhouse. When decorated with classic, modern elements, you avoid the 'country barn' look and get a chic European style.
3. Light Fixtures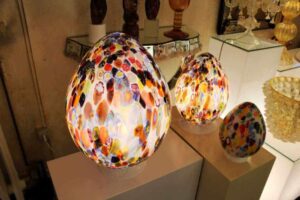 Handmade light fixtures lend a particularly European vibe. Murano Island, off of Venice, is the home of Murano Glass, known worldwide. A Murano glass fixture can be an investment, but reminds us that in Europe hand crafted items are valued and craftsmen are an essential part of the community.
4. Windows

Windows in Italy are a decoration in them selves. The architecture and beauty of each window creates a statement piece. When shopping for a new window, look for European designs and features. European-styled tilt windows give unobstructed views outside while letting in a lovely breeze. (Find out more about Aaben's Tilt and Turn windows »)
5. Window Treatments

Window treatments seem different in Europe. There they seem to focus on shutters or fabric shades that really highlight the window or correct its proportion. They are treated as their own object, and not just something to cover up a window. Roman shades (which originated thousands of years ago) are a popular way to give our homes a Mediterranean flair
6. Ceramic Tiles

Ceramic tiles have become more fashionable lately. Whether on a bathroom floor, or backsplash, or even used as an area 'rug' designed into a floor space. Certain patterns and colours can bring the costal cities of the Mediterranean to any home. They even make great wall art!
7. Wood Flooring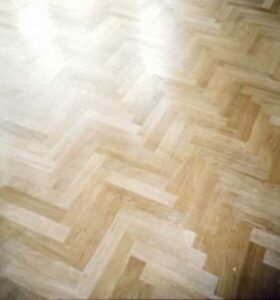 Adding wood texture through flooring brings character and instantly ages a room, making it feel more European. A herringbone pattern or a large board of white oak laid out traditionally can create a welcoming and warm, yet sophisticated feeling.
8. Arches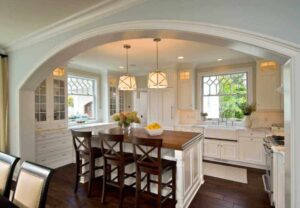 Arches: In windows or doorways, nothing says Italy more than an arch. In North America, arches use to be common in older homes but were then discarded for a more modern, square entrance way. Now they are making a come back. When incorporated into a modern setting, an arch can make a dramatic statement without feeling dated.
9. Exposed  Plumbing

Exposed plumbing in the bathroom, especially in brass, has an old-world, European feel. Beautiful modern sinks that are wall hung will work well with this option.
10. Souvenirs
Decorate your home with memories of your European vacation, if you are ever lucky enough to go there. There is nothing like bringing a piece of Italy home with you.
Credit: Inspired by the Remodelista article by Meredith Swinehart.
Photo credits: M. van der Hoeven, http://www.selectblindscanada.ca/roman-shades, http://www.bhg.com, http://www.houzz.com/photos, http://styleture.com/2009/09/23/decorative-plumbing-specialties/